Producers have just over a month left to make their 2021 program election decision for Agricultural Risk Coverage (ARC) or Price Loss Coverage (PLC). The Illinois Farm Service Agency (FSA) is asking producers to email or call their county office to start the process sooner, rather than later.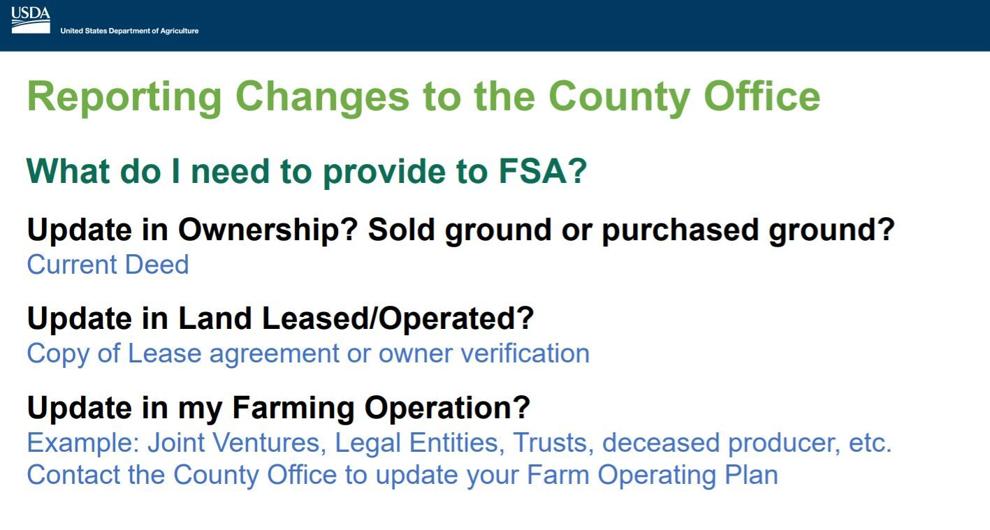 "We're going to ask that you start initiating the process now if you're pretty sure which way you want to elect," said Randy Tillman, Illinois FSA chief program specialist. "You have until March 15 to change your mind. But if we wait … then we find out you have farm records that you need to have updated before we can do an election. There's the possibility you could miss out."
While producers last year made their ARC/PLC election halfway through the 2019 marketing year for crop years 2019 and 2020, this year is different, explained the University of Illinois farmdoc team during a recent webinar.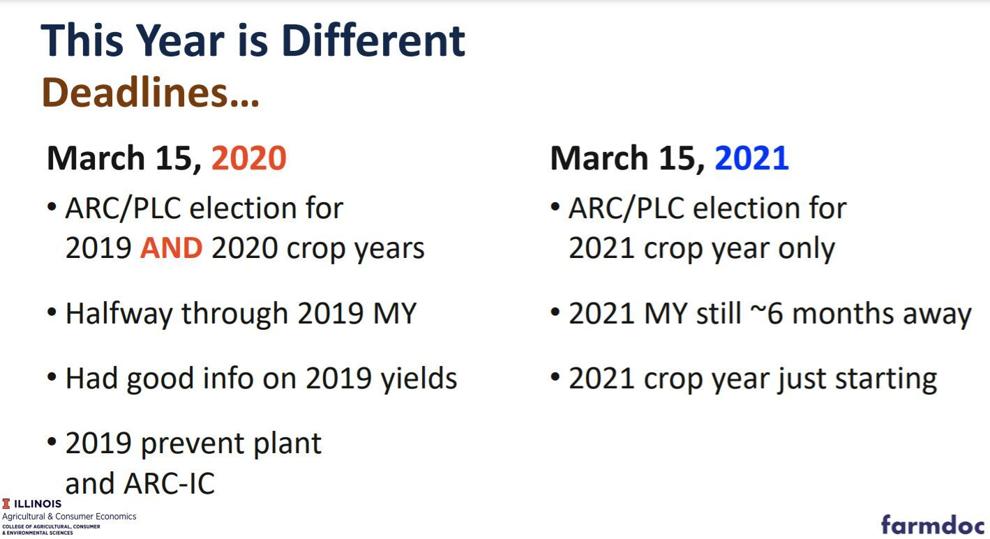 "We're still six months away from the 2021 marketing year even starting," said Nick Paulson, University of Illinois associate professor and director of graduate programs. "So, we have much less information about where the prices that will ultimately determine any payment levels for these programs might actually end up."
At current price forecasts, the farmdoc team projects that PLC would not provide support for corn or soybeans due to higher prices. Corn's projected price is at $4 with a reference price of $3.70, while soybean's projected price is $10 with a reference price of $8.40.
PLC payments are more likely for wheat, with a projected price of $4.80 and a reference price of $5.50.
For ARC-CO (County Option), at current price forecasts and trend/expected yields, there would be no payment triggered. With the benchmark prices of $3.70 for corn, $8.95 for soybeans and $5.50 for wheat, prices would need to fall lower to trigger payments at trend yields. A combination of both price declines and below-trend yields may also trigger PLC.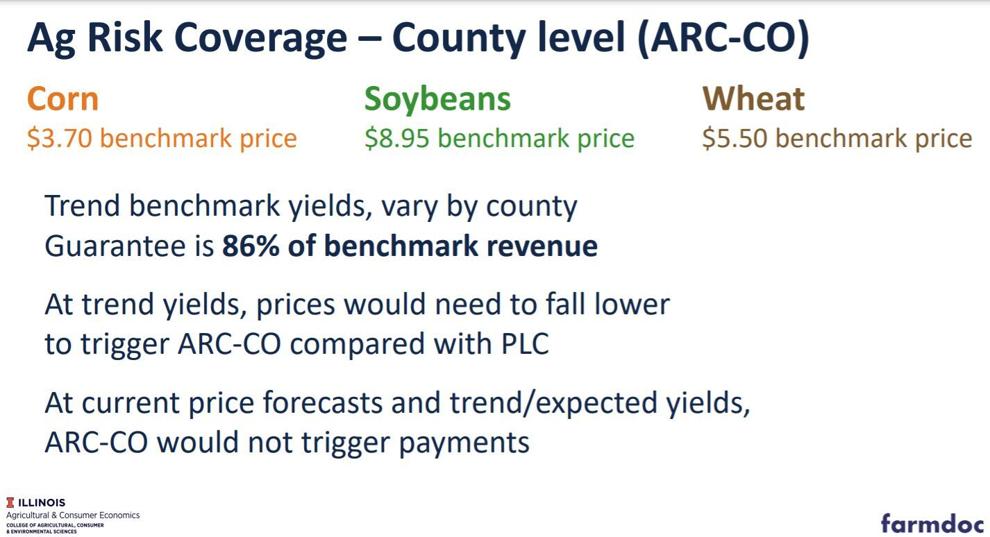 ARC-IC (Individual Coverage) was widely selected at the 2020 sign-up due to a large number of prevent plant acres in 2019. But for 2021 sign-up, it should be evaluated on a field-by-field basis.
"If you're looking at this in 2021, it's most likely going to be a situation where you're looking at using it on only one farm," said Paulson. "And it's probably only going to be something you consider for farms with very low yields or farms that have a consistent history of prevent plants."
In comparison to last year, the 2021 ARC/PLC election decision is only for this year, so producers may change their decision in 2022 if they choose to.
To utilize the farmdoc decision support tools for ARC, PLC, insurance evaluations and price distributions, visit here.