The average age of the agricultural systems on the Upper Mississippi and Illinois rivers is 75 years old, according to the U.S. Army Corps of Engineers (USACE).
That, combined with the historic flooding of 2019, gave the Upper Mississippi, Illinois and Missouri Rivers Association (UMIMRA) plenty to discuss at its recent annual meeting.
From February to July 2019, the National Flood Flight Material Center, housed in Rock Island, provided resources to 13 states and 11 U.S. Army Corps of Engineers districts. Some of these resources included 4.2 million sandbags and 84 pumps, explained Col. Steven Sattinger, USACE, Rock Island District, commander and district engineer.
New technology, including automatic sandbag machines significantly helped the process, said Sattinger. The machines could fill more than 20 sandbags a minute, work previously done manually often by volunteers.
The Public Law 84-99 program provides reimbursement to levees that result from high-water events. As a result of the 2019 floods, there are 27 rehabilitation projects underway - 13 in Illinois, six in Iowa and eight in Missouri. This totals an estimated $85 million in levee repair costs.
For Illinois specifically, lock and dam closures are scheduled through 2023 for badly needed repairs and maintenance.
The 2019 lock and dam closures included Starved Rock and Marseilles. Lock and dam closures this year include LaGrange, Peoria, Starved Rock, Marseilles and Dresden Island. In 2023, lock and dam closures include Dresden Island and Brandon Road.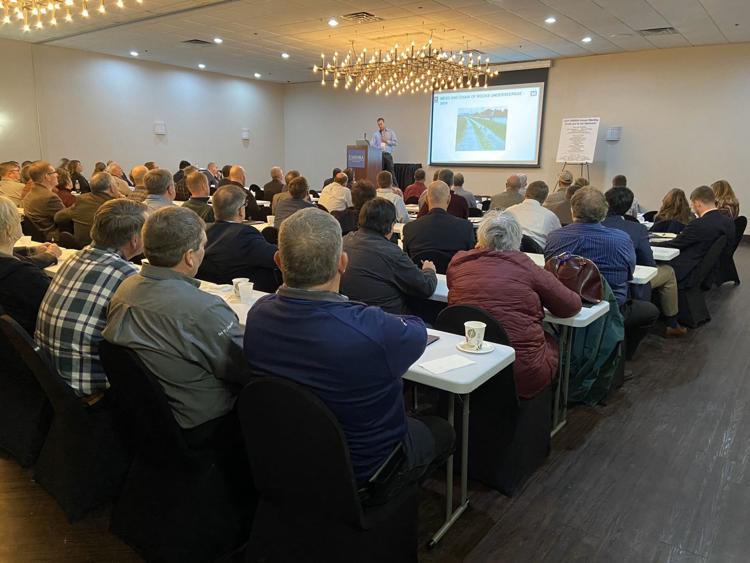 Overall, the USACE continues to collaborate with stakeholders to combat infrastructure and flooding issues. "This flood fight is not a Corps of Engineers fight," said Sattinger. "It is a multi-echelon, multigovernmental agency flood fight. And coordinating with all the different people who are touched by the flood is really, really critical."
John Osterhage, USACE, St. Louis District, emergency management chief, shared the 2019 flood effects in his district.
Out of the 90 levee districts in the St. Louis district, 22 levee segments and 19 levee systems overtopped, and 12 levee segments breached. As a result, more than 100,000 protected acres were inundated.
"The second part to take away from this is the duration," said Osterhage. "It was the longest consecutive number of days above flood stage in St. Louis, which also has a factor on levee performance."
Osterhage also noted that levee districts are systemically not isolated from one another, heightening the need for collaboration. "Partnership and sharing of information across all levels of government are really what it takes," Osterhage noted.
Jud Kneuvean, USACE, Kansas City District, Readiness and Contingency Operations Office chief, shared his lessons learned from flood fighting last year.
These included engaging stakeholders early, seeking out new technologies, and liaising and messaging on all levels. "It's our job to help you to ensure that the levee systems that you own, operate and maintain perform during the flood event," Kneuvean said.
Representing three different USACE districts, the speakers overall stressed the importance of collaboration and communication from the local to national level.