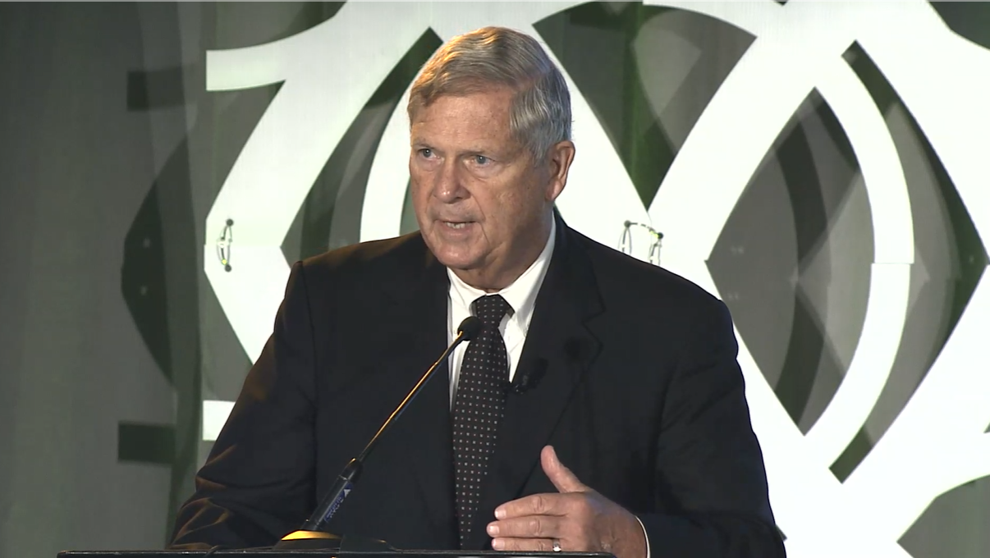 More than four months after he stopped at a Kankakee grain farm with President Joe Biden to tout a $500 million program to expand domestic fertilizer production, USDA Secretary Tom Vilsack Tuesday detailed who could apply for the funds and when they might be awarded.
Vilsack unveiled specifics of the Fertilizer Production Expansion Program during a speech delivered at the 2022 annual meeting of the National Association of State Departments of Agriculture. 
"We want it first and foremost to be utilized by independent operations, those that are outside the dominant fertilizer companies so it creates, again, competition and an opportunity for new players," Vilsack said of the program.
"We want it, obviously, to be focused on made in America. We want to invest in innovation. We want to make sure that whatever is going into the development of this fertilizer is produced sustainably either in terms of the production process or the transportation process, where the feedstock is used," Vilsack said. "And we hope that it's farm-focused and farmer-focused."
Initially funded at $250 million, USDA first introduced the program in March as a response to combat surging fertilizer prices caused by the COVID-19 pandemic, supply chain issues and consolidation within the industry. 
After the war in Ukraine accelerated those price hikes and further restricted energy sources and limited the supply of raw materials used for production, the department in May increased the total funding to $500 million.
"Literally on the plane out here, on Air Force One, I turned to Tom and I said, 'Tom, double that. Make it $500 million. It's so desperately needed. We can't take chances,'" Biden said during the farm visit. "It's critical to get this done."
Since then details about the program have been limited, although USDA this summer solicited comments from the ag industry about how it could best implement the program. 
Illinois Farm Bureau in May submitted comments to the department, recommending among other points that USDA should tailor the program to provide money for farmers and rural small businesses to add or expand on-farm fertilizer storage capacity.
And Vilsack last spring told a congressional committee that USDA had planned to make decisions about the program before Sept. 30, when the current fiscal year ends, with money awarded as early as this fall.  
He mostly upheld that commitment Tuesday, saying the first round of grants will be distributed to applicants that can "make the case they are ready, willing and able with additional resources to provide assistance and relief to farmers in terms of access to fertilizer in crop year 2023 and crop year 2024."
A 45-day application window will launch first for those "immediate impact" projects, followed by a 90-day window for projects that "will require a bit more time to basically make an impact," Vilsack said.
The grants range from $1 million to $100 million each, and will fund projects that will take the next three to five years to complete.
Asked by reporters for an example of a project that might benefit from the first round, Vilsack pointed to a potash mine and fertilizer facility in Michigan currently under construction "that may be able to accelerate their construction schedule if they were successful in making a grant request."
Other eligible applicants include for-profit businesses and corporations, non-profit organizations, state and local government agencies, tribes and tribal organizations, certified benefit corporations and producer-owned co-ops.
Private entities can apply, but they must be independently owned and operated.
"This particular announcement today is really designed to increase capacity, increase the amount of fertilizer that's being produced and the ingredients of fertilizer that are being produced in the United States," Vilsack said.
"That would make us less reliant on sources from Russia, for example, and in doing so, obviously, the goal is to create a more competitive market which should result in more supply and lower costs for farmers."