Linnea and Joel Kooistra's decision to sell their dairy cow herd in 2018 was not easy.
The Woodstock residents were dairy farmers for more than 40 years, transitioning to an immigrant workforce in 2000 to tend to their 300 cows and 250 young animals. The switch was prompted by frustration with the domestic labor pool.
"After switching to an immigrant workforce, our lives became much easier," Linnea Kooistra said. "Our decision to sell our cows in 2018 was in part because we were worried about losing our workforce. The atmosphere regarding immigrants in the workforce was hostile. We knew we could not run this business without them."
"I can decisively say that the domestic workers just aren't there."
Kooistra testified during a Senate Judiciary Committee hearing titled "Immigrant Farmworkers are Essential to Feeding America." The hearing, chaired by U.S. Sen. Dick Durbin, D-Springfield, examined the essential contributions of immigrant farmworkers to America's food supply and highlighted the need for the Senate to take up legislation to provide a path to citizenship for undocumented farmworkers.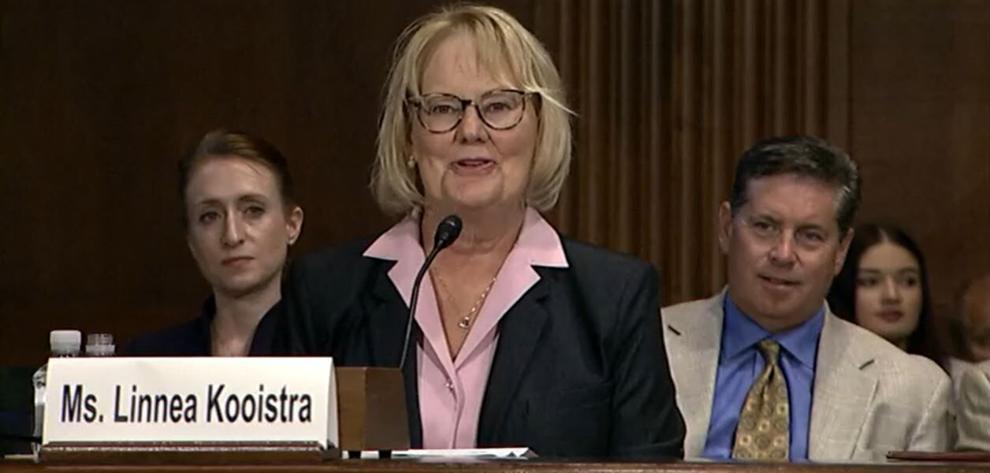 Earlier this year, the House passed the Farm Workforce Modernization Act, which aims to change the lives of hundreds of thousands of farmworkers by allowing them to continue doing their essential work without fear of deportation, Durbin said during his opening statement.
About half the nation's 2.4 million farmworkers are undocumented and many face the threat of deportation, among other work hazards.
"We, in this Senate, can change that," Durbin said, adding the legislation can keep hard-working families together and strengthen the "durability and resilience of our food chain."
In addition to Kooistra, the three-hour hearing also included testimony from Secretary of Agriculture Tom Vilsack; Arturo Rodriguez, president emeritus, United Farm Workers of America; Shay Myers, CEO and farmer with Owyhee Produce, Ontario, Ore.; Leon Sequeira, former Assistant Secretary of Labor for Policy; and Jen Sorenson, president, National Pork Producers Council.
Vilsack noted the agriculture industry is served by 2.4 million farm workers — 70% of whom are undocumented workers.
"They come up here to make a better living and send resources back to their families with the understanding that they may never ever see them again," Vilsack said. "Why is that? Well, it's important because we have an uncertain and ... broken immigration system. The availability of H-2A (temporary agricultural workers program) is always in question. Wage increases or decreases are fluctuating from year to year in an uncertain path. There is a cumbersome process involved. There's uneven worker protections."
Vilsack added the Farm Worker Modernization Act simplifies and streamlines the H-2A process, creating a year-long workforce, clarifies and defines wage increases and decreases, improves housing opportunities and streamlines the process for more dispute resolution and emergency appeals from producers.
Some senators debated the merits of the House bill, saying the border crisis must be resolved prior to discussion of amnesty.
In response to a question about how the House bill could bolster the economy, Vilsack said the legislation provides stability.
"Ultimately, over time, if we don't deal with this issue, and don't provide stability, we will continue to see the economic challenges of agriculture continue to mount and eventually, it could compromise the security that we currently enjoy, which is the ability to essentially produce all the food that we need for our own people as well as for exports."
Kooistra noted 51% of the labor on dairy farms is from immigrants, and the dairy farms employing immigrants produce 79% of the U.S. milk supply. These dairy farms are in "crisis mode" because farmers are unable to find enough workers and can't supplement their workforce with H-2A employees because of the year-round operation.
If the U.S. dairy industry lost its foreign workforce, retail milk prices would nearly double and the U.S. economy would lose more than $32 billion, according to a study by Texas A&M University Kooistra cited. She said reform requires two actions: protecting current workers with an opportunity to work toward citizenship and reforming H-2A so dairy farmers have access to the guestworker program.
"Dairy farmers are resilient," she said. "They are creative problem solvers. But they cannot fix this problem. Only you can fix it."