Rolling Lawns Farm counted on restaurants, coffee shops and other food service businesses to buy its bottled Grade A milk. During the pandemic, Greenville dairyman Michael Turley has learned how much his customers value his products.
"If there's a silver lining in this, it's how committed our customers are and the professional chefs are. We value these relationships," Turley of Bond County told FarmWeek.
While registered Holsteins have been milked on the fourth-generation farm for 100 years, Rolling Lawns received its state Grade A and Manufacturing permits two years ago. In addition to milk, the dairy sells heavy cream and half-and-half, primarily to businesses in and around St. Louis, Missouri. Visit the farm's website and Facebook page.
"The (St. Louis) food scene is very vibrant, and the chefs are very committed to relationships with local farmers," Turley said.
During COVID restrictions, some of Turley's restaurant customers pivoted to curbside service that worked for some, but not others. The "really savvy" restaurants began offering meal prep kits that included meat, milk, eggs and other local farm ingredients used in customers' favorite dishes, Turley said, adding that additional sales of food provisions are "a huge success."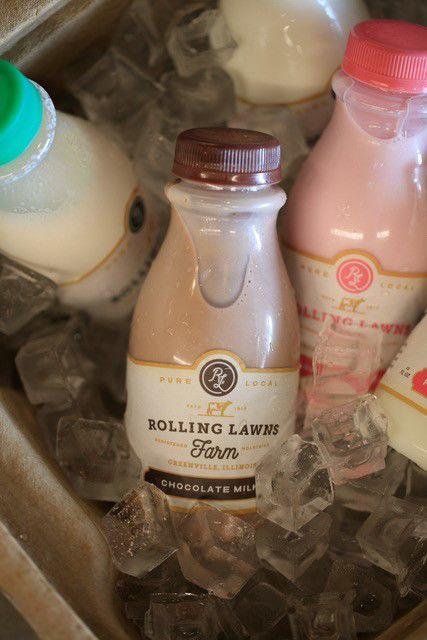 Those kits and provisional supplies, "validated our credibility with the finest restaurants and their customers," he continued. "We're finding for the dairy, the most urban consumers –- the ones farthest removed from the farm –- are driving this (demand). They want to use what (ingredients) their favorite places are using."
For example, popular bakery Union Loafers is buying 50 to 60 half gallons of 2% milk and 30 quarts of chocolate milk each week for customers. Eight to 10 restaurants are selling their customers "provisional supplies," Turley added.
Rolling Lawns is also partnering with other farms, such as Eckert's Inc., to sell products at farm retail stores.
Meanwhile, consumers are driving from as far as St. Louis and Effingham to the dairy's on-farm retail store. Business hours are 8 a.m. to 5 p.m. weekdays and 8 a.m. to noon Saturdays. Centers for Disease Control guidelines are implemented with customers wearing masks and social distancing.
Looking to potential trends, Turley mentioned the current increase in home cooking, pointing out many of those cooks "want to do it special at home with the best ingredients." Recently, a customer told him her crème brulee had never tasted so good as when she made it with Rolling Lawns Farm heavy cream.
"There's a quality experience they're glad they've found. It's an opportunity to get involved with consumers," Turley said. "That's where we're making our name."