Robert Kauffman and his family are ensuring plentiful, fresh turkeys are available for families' Thanksgiving feasts — especially important this year.
As the owner and operator of Ho-Ka Turkey Farm, Kauffman raises, processes and sells about 60,000 turkeys annually near Waterman in DeKalb County. The fourth-generation farmer also grows about 200 acres of corn, which is ground for feed, and 140 acres of soybeans and wheat.
Direct sales from the on-farm retail store increased this year along with consumers' growing interest in local food. "We've had more customers. They like the store," Susan Kauffman, Robert's wife, told FarmWeek. Store hours are 7:30 a.m. to 4 p.m. Monday through Friday and 9 a.m. to 2 p.m. Saturday.
In addition to whole turkeys, Ho-Ka Farms (named for Howard Kauffman, Robert's father) sells turkey products, such as roasts, drumsticks, thighs and breasts. The farm also makes and sells ground turkey and different varieties of turkey sausage.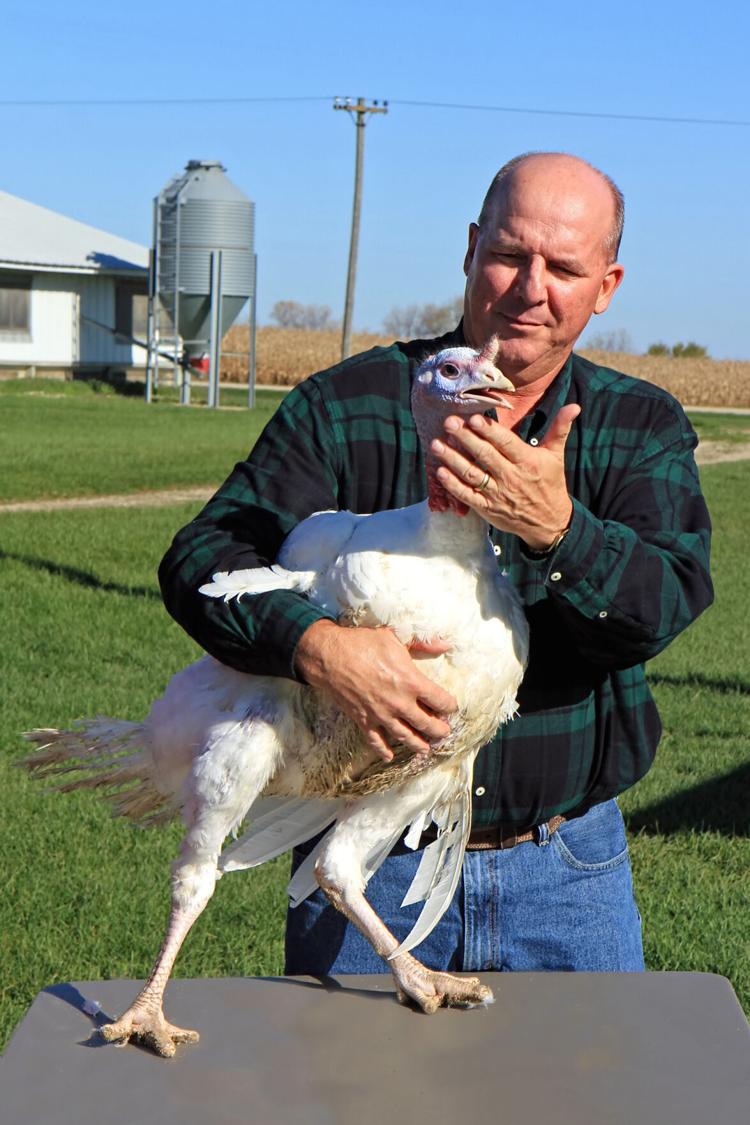 About 13,000 turkeys, grazing on the family's harvest wheat acres, are sold whole. Robert noted a few whole turkeys will be smoked and available on a first-come, first-served basis for the Thanksgiving and Christmas holidays. Visit hokaturkeys.com for details and follow the farm on Facebook.
While on-farm retail sales have increased, Ho-Ka Farms lost sales when colleges closed earlier in the year. However, at least one market was regained when the University of Chicago reopened. Likewise, sales to restaurants stopped and then restarted.
This year due to pandemic, Ho-Ka Farms offers a pre-pay and advance order option with curbside delivery at the on-farm store, Susan added.
In addition to the on-farm store, Ho-Ka turkeys are sold year round at Joseph's Finest Meats, Chicago; Inboden's Meat Market, DeKalb; Tischler's Market, Plainfield; and several Sunset Foods stores in the Chicago area. Ho-Ka turkeys are available seasonally at a number of stores; check the website for locations.
Robert credited his father, Howard, for starting the family's turkey enterprise. Howard encouraged his father, William, to start raising the birds. The farm's origins go back to William's father, Abram, who started the family farm after the Civil War.
Many turkeys later, the Kauffman family is preparing for yet another busy holiday season. "We're always really busy the week before Thanksgiving. There is a line to wait (for a fresh turkey)," Susan said.
Any of those customers needing last minute ideas on the best way to prepare a Ho-Ka turkey could talk with the turkey farmer himself. Asked his favorite ways to eat turkey, Robert first mentioned a traditional roast turkey and then continued with a list of mouth-watering dishes — fitting for a family with turkeys year round not just one day a year.