Greg and Mariah Anderson anticipated their strawberries would be popular, but they were surprised when more than 100 people came to Triple M Farm near Clinton to pick that first Saturday morning.
So, the Andersons pivoted to meet increased demand for locally grown produce, while keeping customers safe and healthy during the pandemic.
"We had to turn some (customers) away to ensure social distancing. They were understanding. There was a long line of people checking out, and everybody was pleasant," Mariah remembered.
Thus, private picking appointments twice a week began on Tuesday and Thursday evenings at the farm also known as Mariah's Mums and More. Customers make picking appointments and pay online on the farm website or Facebook page. The farm is also on Twitter and Instagram.
Private picking opportunities are proving popular and many appointments are booked for the next four weeks, Mariah said, adding, "People enjoy a private experience."
In addition to hydroponic, vertical strawberries that will produce fruit into October, the Andersons grow a variety of vegetables. These include cucumbers, summer squash, peppers, tomatoes and sweet corn. Vegetables are sold at the farm stand and in local grocery stores.
Farm stand hours are noon to 5 p.m., Fridays and Sundays, and 10 a.m. to 5 p.m. Saturdays.
In July and August, the couple offers farm-to-fork dinners featuring local food and the farmers who grow and raise the products. Check the website and Facebook page for details.
Mariah pointed out dinners are limited by appointment to 50 guests and are held outside. "We're socially distancing and observing all safety precautions," she added.
The farm's namesake, mums, will be available starting in late August for customers who drive from as far as Rockford. Given the popularity of private strawberry picking, the couple is considering adding private opportunities to select mums this fall. Updates will be posted on the website and Facebook.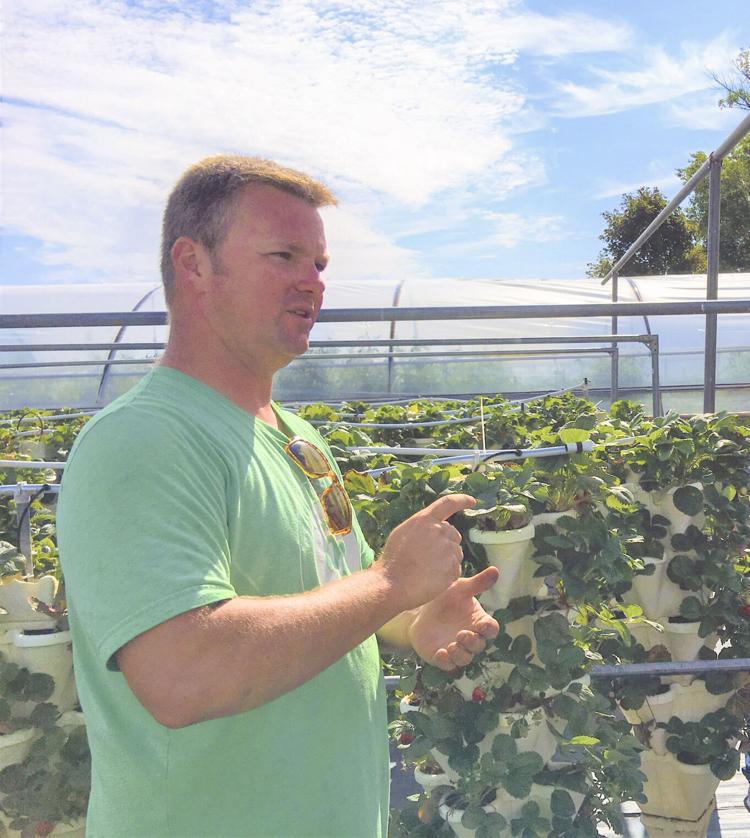 "This year's mum crop looks good," Greg said. "The vegetable side (of the operation) has been challenging. We were flooded out early. Then, we had a drought for two months that hindered crops and caused uneven stands. In our last 11 years, this has been the most challenging one."
While on-farm hours have always been offered, Triple M may expand those hours in September to meet customer demand and offset lost markets of fall festivals and events that were canceled.
While the pandemic impacted their markets, the Andersons also experienced "an uptick" in local demand, Greg said. But increased demand is coupled with unpredictability. "You don't know if it will be 15 or 1,500 people who will come," he added.
Meanwhile, consumers' interest in their farm and specialty crops shows no sign of diminishing.
"We're getting tons of requests for farm dinners. People are itching to get out," Mariah said. "Every day we get to change something and be flexible … People are supportive."
#CultivatingOurCommunities: Hydroponic, vertically grown strawberries that are ripe for the picking through October 🙌🏾🍓! Yes please! At Triple M Farm, they offer u-pick strawberries on Saturdays or private picking on Tuesday/Thursday evenings! https://t.co/frUK4nTnMh pic.twitter.com/OkQ5lRTgWI

— Lt. Governor Juliana Stratton #AllinIllinois (@LtGovStratton) July 15, 2020