With five young sons, Regan and Christie Joehl's focus on family drives their Greene County specialty farm.
Greene Fields Farm, appropriately located near Greenfield, grows 160 varieties of pumpkins, squash and gourds on 10 acres and 2,400 mums of many colors and sizes. Both fourth generation farmers, the Joehls offer U-pick opportunities for pumpkins and mums along with family-friendly farm experiences and fun.
"We try really hard to be a 'real' farm and keep the focus on the crop and the diversity of it. We specialize in the U-pick side," Regan said. Visitors "can get connected with the farm and with nature."
Since opening Sept. 5 for the season, "we've been blessed with people," he said. "Our opening weekend, we saw more people than we're used to seeing. Everyone has been so cooperative and happy to be out."
With five "farm fun experts" at home, Greene Fields traditionally offers farm experiences and activities for kids. Due to COVID, the Joehls scaled back some of the activities to reduce clusters of people, Regan noted. However, young visitors will still find farm animals, old tractors and hay bale creations.
This year's pumpkin patch was laid out to function as a loop around the farm, Regan explained. Pulling small wagons, customers will find it easy to socially distance while selecting pumpkins, squash and gourds.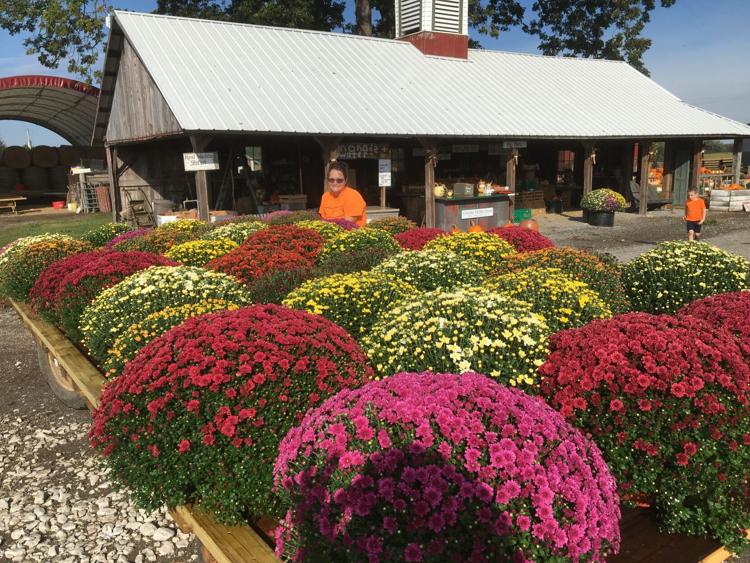 Mum enthusiasts may choose among different sizes and colors, including a tri-color pot with three plants. A new creation of four mums in a wooden container proved so popular, it sold out the first weekend, Regan added.
Customers also find fall décor, Indian corn, mini straw bales made by the little Joehls and other items.
Adding to the farm's diversity, the family planted a 1-acre trellised orchard with 18 apple varieties in spring 2019. They planted another acre this past spring. While the family picked a few apples this year, they're expecting a larger harvest next fall because trellised orchards produce a crop faster than traditional apple orchards, according to Regan.
In addition to operating a pumpkin patch, Regan farms with his dad, Tony, and brother, Drew, on a family row crop farm that is 40 miles from his Greene Fields Farm.
"The pumpkin patch turned into a way to keep the whole family on the farm," Regan said. The specialty venture also allowed Christie, a former high school agriculture teacher, to farm full-time and raise their sons, whom she now also homeschools.
The family's busy schedules explain why Greene Fields Farm offers weekend hours through Oct. 31. Business hours are noon to 5 p.m. Friday and Sunday and 10 a.m. to 5 p.m. Saturday. The farm is open Columbus Day from 10 a.m. to 4 p.m.
The farm website and Facebook page provide information and updates. Visitors can watch pumpkin planting, apple tree pruning and kids' views of farm life via the Joehls' YouTube videos. Proving anyone can make and bake a loaf of bread, Christie and each of her sons even demonstrate their own kneading techniques with Regan providing commentary as the camera operator.
The pandemic has surfaced growing support for the Joehls and their farm. "We're seeing an uptick," Regan said. "People are really looking for a reason to safely get out and our specialty farm offers that.
"We're seeing more local support," he continued. "It's been a real good experience."
Watch one of the family's YouTube videos below. (This is from 2019):