Scott and Tracy Snowman along with Mistletoe, Klaus and Snowball are helping families across Illinois and the country safely celebrate the holidays. At Fulton County's Snowman Reindeer Farm, they're celebrating with a twist given COVID-19 and Illinois' mitigation limits.
On Dec. 2, the Snowmans opened their 11-acre agritourism farm near Canton for the season with additional health and safety precautions that adhere to Illinois Public Health (IDPH) guidelines. Visit the website and follow the farm on Facebook for updates and reservations. The couple care for eight reindeer, two miniature donkeys, chickens and guineas.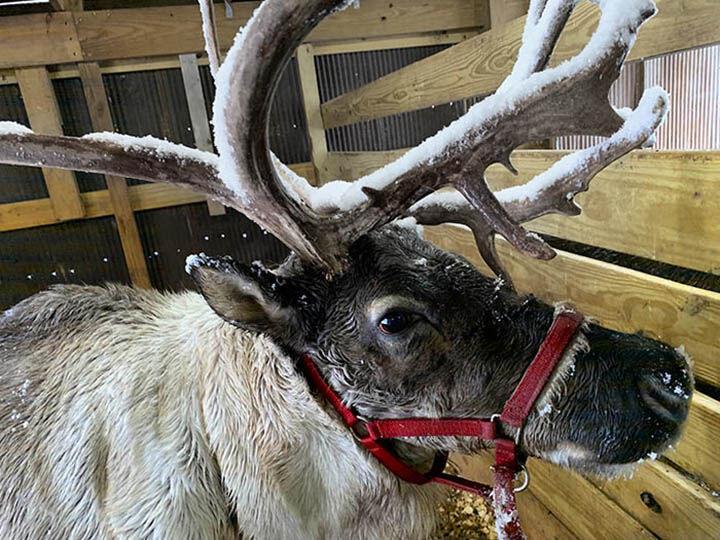 To keep everyone safe, including visitors, employees, their reindeer and themselves, the Snowmans implemented new precautions, such as limiting in-person groups to 10 with staggered entry times, offering open-air, self-guided tours and adding plexiglass shields and a one-way traffic pattern. Tracy estimated their business may suffer a 90% loss.
"Scott and I believe in following IDPH guidelines to the letter. We don't want to be part of a problem of spreading COVID. We have to do our part," Tracy said. "We let visitors decide (to take) a self-guided tour with no touching (the reindeer). The people choosing to come are bringing grandma and grandpa. They feel safe."
The Snowmans added a new option to be a day sponsor of a reindeer or miniature donkey, receive the animal's photo and information about it, plus a quarterly digital farm newsletter.
Spurred by COVID restrictions, the couple also added WiFi hubs for virtual tours and group experiences with the reindeer, a step the recently retired teachers had considered previously. The response from across the country has been heartening.
Harvard Medical School's Brigham and Women's Hospital in Boston, Massachusetts, scheduled a virtual group session. This month, the Snowmans are also teaching lessons and giving virtual tours to classrooms and entire schools across the country. They gained day sponsors from California, Colorado, North Carolina and New York.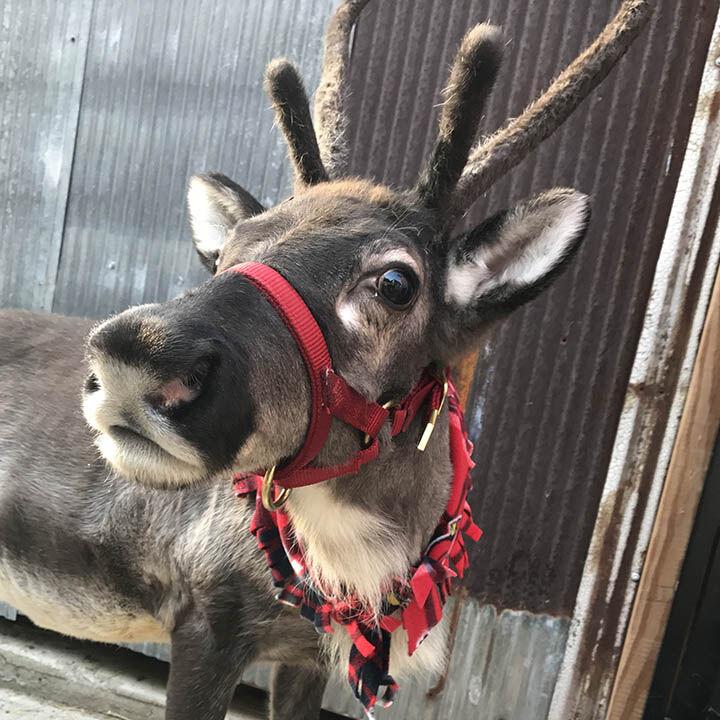 "It's opened our minds," Tracy said of online possibilities. "I don't see that going away. We can always have that as an option. We're teachers by trade."
Fed Ex helped bring another change to the farm this year. After years of work to add deer from another bloodline to their herd, the Snowmans bought three young reindeer from a breeder in Anchorage, Alaska. On Nov. 6, the deer, ages 5, 6 and 7 months, flew on a Fed Ex cargo plane to Indianapolis, Indiana, where Scott and Tracy picked them up at 1 a.m.
"Our reindeer really do fly — with help from Fed Ex," Tracy said with a laugh.
Now with eight reindeer, Snowman Reindeer Farm has a full replacement team for Santa.