The Illinois General Assembly marked a momentous Jan. 13, working into the early morning in the 101st session before launching the 102nd session a few hours later when legislators took the oath of office and elected caucus leaders of their respective chambers.
"We look forward to working with all the members of the Illinois General Assembly and their leaders," said Illinois Farm Bureau President Richard Guebert Jr. "We saw many new faces inaugurated in the House and Senate. We also see some new faces in the leaders of the General Assembly as well."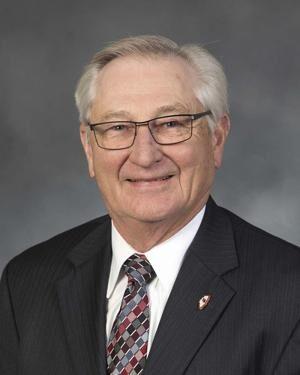 In the House, Rep. Emanuel "Chris" Welch, D-Hillside, was elected Speaker of the House, replacing Rep. Michael J. Madigan, D-Chicago, and becoming the first Black person elected to that position in the Illinois House. Rep. Jim Durkin, R-Western Springs, was reelected leader of the House Republicans.
In the Senate, Sen. Don Harmon, D-Oak Park, was elected to his first full term as Senate President, and Republicans elected Sen. Dan McConchie, R-Hawthorn Woods, to replace former Sen. Bill Brady as Senate Republican Leader.
As legislators and their leaders embark on a new session, they face difficult challenges, the IFB president pointed out.
"Our state faces many challenges and there are a lot of hard things that our elected officials will be facing in the coming session," Guebert said. "We will work with them to see that the issues of agriculture and our local economies are raised."
During the lame duck session that immediately preceded, IFB and its members succeeded in having lawmakers hear their requests to remove two provisions of concern in proposed legislation during five days of intense lobbying and contacts by Farm Bureau members, reported Kevin Semlow, IFB director of state legislation.
The Legislative Black Caucus had introduced a robust agenda that spanned a variety of issues, a few which directly impacted agriculture and IFB members.
"We would like to thank our members who contacted their state representative and state senator, asking them to vote no or present on the Economic Equity Act that originally contained 23 major proposals. IFB opposed two of the items," Semlow said. "We are grateful the sponsors of the Economic Equity Act package heard the concerns of farmers and removed those two provisions."
Specific areas of opposition removed:
Mandated "environmental justice" considerations be taken during the Illinois Environmental Protection Agency (EPA) permitting processes; and
A statewide program that required replacement of all lead water service supply lines, costing water ratepayers up to $10 billion and mandating ratepayers pay an annual, unknown fee for the replacement costs to be set by EPA later.
Of the 23 major proposals, Semlow explained the legislation was scaled back to four in SB 1792. They were:
Farmer Equity Act that requires that the Illinois Department of Agriculture conduct a study to be concluded by Jan. 1, 2022, to determine economic and other disparities associated with farm ownership and farm operations in Illinois. The study focus will be collecting data comparing economic, land ownership, and other differences between African American farmers, white farmers, or other social disadvantaged groups. IFB has no position on this provision, Semlow reported.
A new Cannabis Equity Commission comprised of 13 voting members, including agency directors and legislators plus 10 ex officio members from several groups including community-based support organizations and former convicted individuals. They are to monitor the proper implementation of the Cannabis Regulation and Tax Act to ensure licenses are being issued as specified by law. law.
Predatory Loan Prevention Act that makes numerous reforms to the administration of pay-day loans, consumer installment loans and automobile installment loans.
A Personal Care Products Industry Disparity Study by the Department of Commerce and Community Affairs on minority discrimination in Illinois beauty products, cosmetics, hair care supplies, and personal care products industry.
Semlow reported the House passed SB 1792 with a 110-0 vote (two voted present) and the Senate passed it with a 35-9 vote. The bill will be processed and sent to Gov. J.B. Pritzker in the next 30 days for his review and action.