Family and health provide a foundation for Happy Hens and Produce specialty farm near Murphysboro in Jackson County.
Owner and operator Jane Tretter — assisted by an all-woman family crew that includes her mother, daughter-in-law and three granddaughters — produces a diverse crop of garden plants, herbs and vegetables. Her happy hens supply the brown eggs.
Caring for a 2-acre "garden" plus a greenhouse requires a lot of labor, but Tretter savors those hours. "It's just our immediate family and it's good family quality time. My favorite part is getting to have quality time," she said of the conversations and laughs shared while working.
Customers place orders through the farm's Facebook page at facebook.com/happyhensandproduce.
Through a no-contact system, customers preorder purchases and pick them up on a designated day and time at the farm. Customers either prepay or leave payment in the on-farm packing shed. The farm's official hours are 8 a.m. to 5 p.m. Monday through Friday and 8 a.m. to noon Saturday.
Marking its fifth year, Happy Hens and Produce starts its spring plant season with a variety of vegetable and herb plants for the garden. Each plant is grown from seed, Tretter noted. Customers find several varieties of tomatoes, all types of peppers and herbs along with broccoli and cauliflower.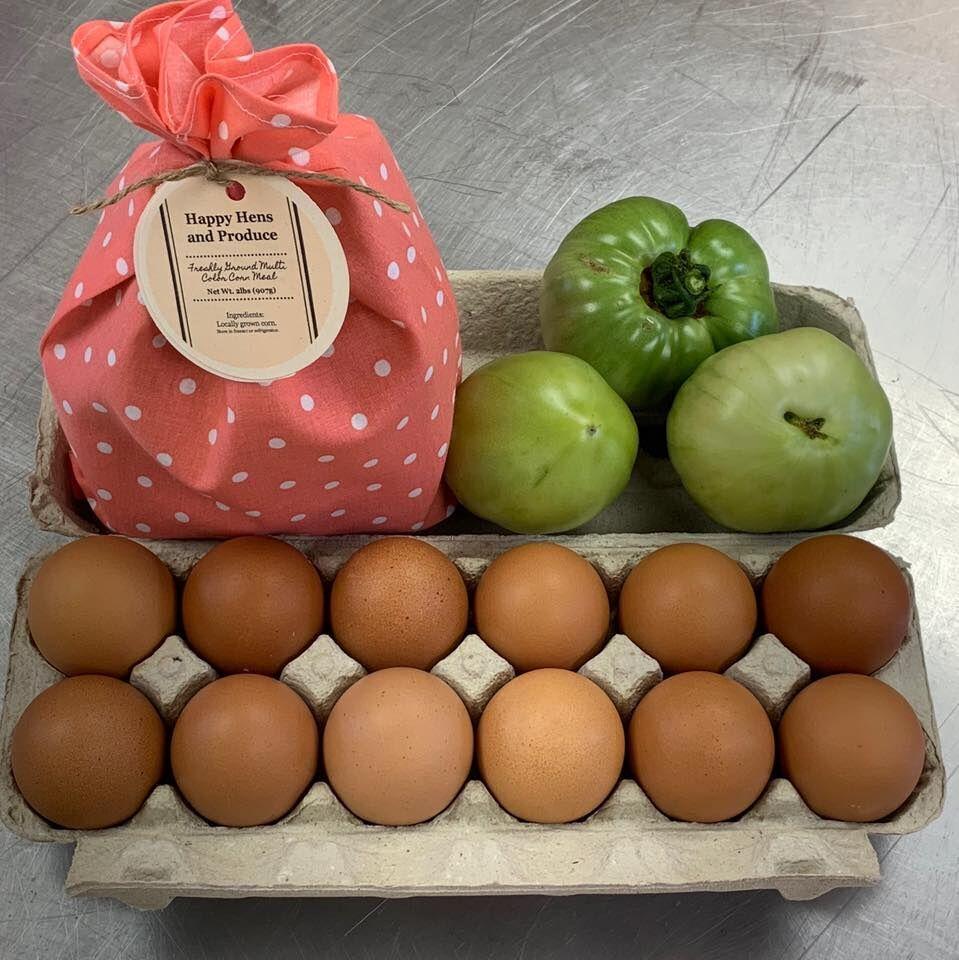 Tretter also sells "bee pots" containing a mix of flowers to attract bees, butterflies and other pollinators when the flowers are separated and transplanted from the container.
Tretter and her crew hand harvest and sell several varieties of tomatoes, asparagus, squash, blackberries, zucchini and strawberries "from our abundance," she said.
In July, Tretter sells garden flower arrangements of snapdragons, zinnias and sunflowers in glass Mason jars. Some customers have already preordered "flower jars," she added.
Her husband, Jackson County Farm Bureau President Gary Tretter, grows sorghum and corn, both are ground and sold as fresh flour and meal. The family started making cornmeal and sorghum flour as healthy alternatives for their daughter's and daughter's-in-law dietary restrictions, Tretter explained. Each fall, they also sell jars of ground horseradish.
The farm's "superstars" not only produce brown eggs year round, but also fascinate customers, according to Tretter.
"People sit in our driveway and watch the chickens. I can't tell you how many customers have said, 'I didn't know chickens did that' about the chickens' normal behavior," she said. "That's what I love the most – the fact that people ask you more questions when you're out here on the farm. I like that because I feel like I'm getting the word out about agriculture."