A business venture using soy seemed perfect for friends Alice Long and Amy Manahan. Now in its third generation, Long Farm in Tazewell County grows corn and soybeans, while Amy Manahan works in GROWMARK Inc.'s seed division.
The two entrepreneurs launched their mobile business, Farm to Wick Soy Candles, on Sept. 1 only a few months after getting the idea while visiting a little candle shop.
"We never in a million years thought it would take off. It's been an incredible ride," Manahan said.
Their business venture offers soy wax candles customized with more than 40 scents and a wide variety of containers. The business includes a make-your-own candle activity for events and festivals. Find Farm to Wick online, www.farmtowick.com, or follow the business on Facebook, Instagram and Pinterest.
During the Illinois Farm Bureau Annual Meeting in Chicago, Farm to Wick will be in the exhibit hall on Dec. 5.
Farm to Wick candles use soy wax produced in the Midwest. A bushel of soybeans makes a little over 10 pounds of soybean oil, which is the equivalent of nearly 20 Farm to Wick candles, Long said.
Since launching their business, the two entrepreneurs have offered candle-making activities at harvest fairs, bridal expos, wineries and other businesses. They've been hired for many types of private events, such as showers and club gatherings.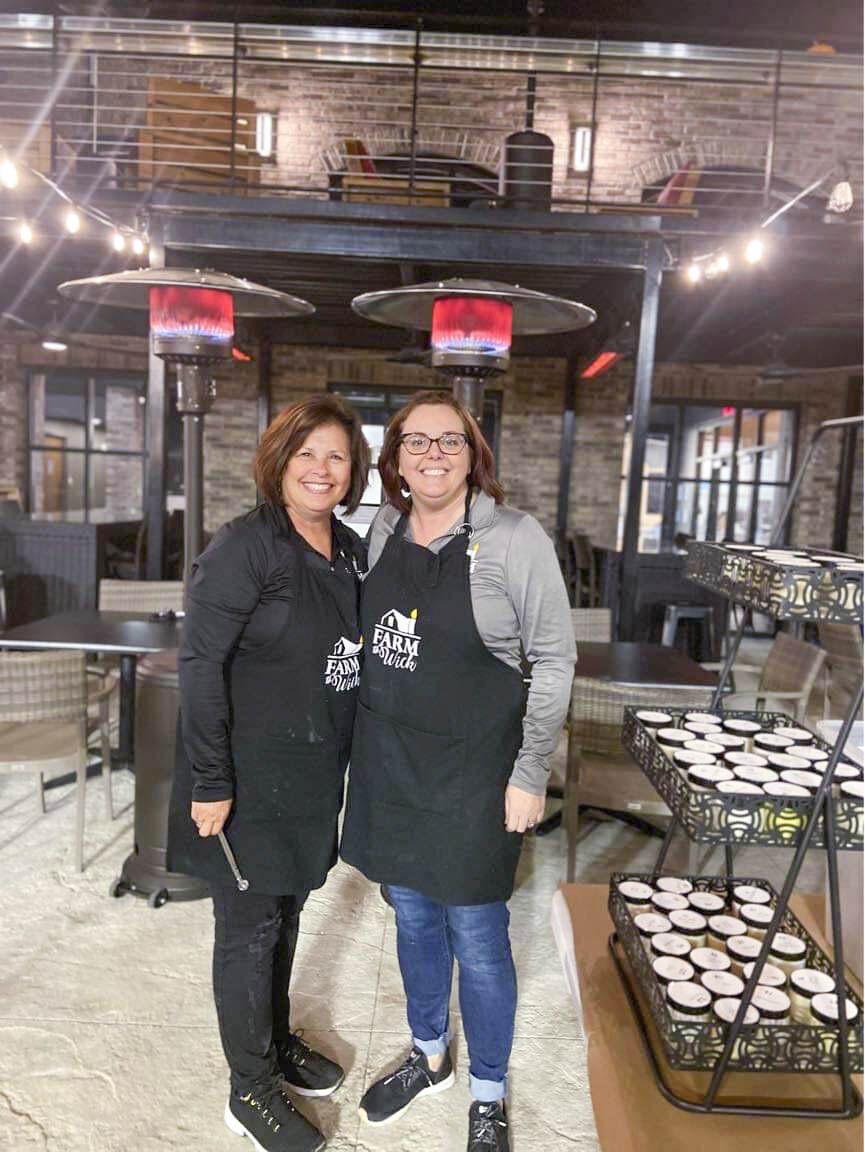 At an event, each participant selects from a variety of 8-ounce containers, up to four scents and a label. The price includes wick and wax. A candle can be assembled in roughly 30 to 45 minutes and needs 2.5 hours to cure.
Because the business is mobile, the women said they can bring Farm to Wick to any locale. A minimum of 10 participants is required for a private event. A listing of candle-making opportunities at different businesses, primarily in central Illinois, is kept updated on the Farm to Wick Facebook page.
While no open dates remained in November, a few December dates and most of January are open to book a private event, Amy said.
In addition to the make- your-own candle activity, Farm to Wick has a retail line of candles for purchase. Custom-ordered candles are hand poured in the women's studio. They explained the orders with a custom label and selected scent and container are available for special occasions, business promotions or other occasions.
True to their agricultural roots, Long and Manahan want to connect their customers to the farm source of the wax.
"We have soybeans in a Mason jar," Long explained.
"We try to educate people," Manahan added.