Called a modern day victory garden, a state-of-the-art urban farm will be built on Chicago's South Side, Gov. J.B. Pritzker announced today in a press conference.
The 9-acre brownfield site, once home to International Harvester in the Auburn Gresham neighborhood, will be transformed into an ag campus with a 13,000-square-foot greenhouse, anaerobic digester, gardens and plots that will offer education, training and activities.
The $32 million project "will establish Illinois as a national model ... and show a green economy can spur economic development," Pritzker said in the middle of grass and small trees at the vacant site.
Illinois is investing a $2 million Rebuild Illinois grant to start construction, the governor said. Those state funds are leveraging another $30 million.
Expected to be completed in March 2022, the urban farm is expected to annually produce more than 26,000 pounds of fresh produce that will be sold to neighborhood residents.
Dubbed Green Era, the project will be home to Chicago's first anaerobic digester that will produce natural gas and compost that will be used on the campus land as well as community gardens and farm plots. Green Era will sell the renewable energy produced by the digester to bp.
Pritzker pointed out Green Era's sustainability benefits will include recycling an estimated 85,000 tons of food and waste, reducing as much as 42,500 tons of carbon dioxide. "That's the equivalent of taking 9,182 passenger vehicles off the road per year," the governor noted.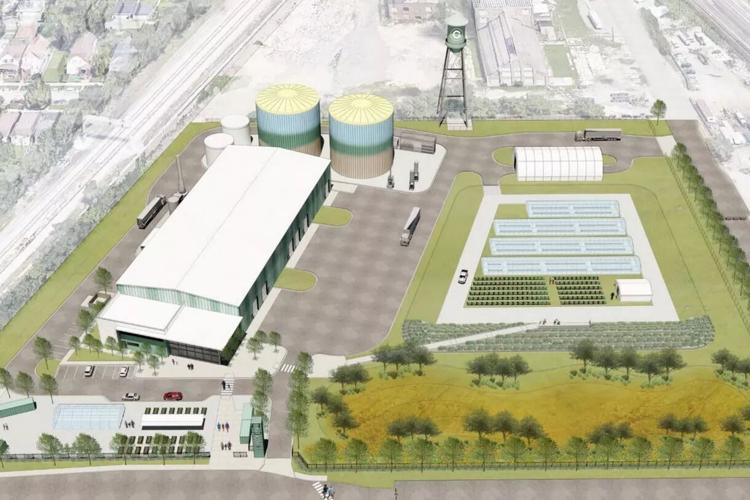 As a brownfield site, Green Era is part of the Illinois Environmental Protection Agency's (IEPA) site remediation program and received a $1 million loan from the agency's Brownfield Redevelopment Loan Fund. It also received a $600,000 brownfield cleanup grant from the U.S EPA for remediation and to support community outreach.
Michael Negron, acting director of the Department of Commerce and Economic Opportunity (DCEO), raised the many educational opportunities, internships and workforce programs that will come from the project site. The project will create pathways for careers in agribusiness, agrotechnology and manufacturing among other fields, Negron said.
The Urban Growers Collective, which will support youth and adult education and engagement, and the Farmers for Chicago program will oversee programs at the site.
"Food deserts are the genesis of what has become a public health crisis in some of our neighborhoods today," said state Sen. Jacqueline Collins, D-Chicago, an Auburn Gresham resident. "Urban farming with job creation is an investment to transform struggling neighborhoods like Auburn Gresham."