Combine cheeses from three Illinois creameries with a celebrated Chicago chef, and voila, a recipe that supports Illinois specialty products during the COVID-19 pandemic.
Through the end of June, Prairie Fruits Farm and Creamery, Champaign, Marcoot Jersey Creamery, Greenville, and Ludwig Farmstead Creamery, Fithian, are marketing cheese in an Illinois Victory Cheese Box. Part of a national initiative, the all-Illinois box involves Chef Rick Bayless, author and co-owner/chef of Frontera Grill and several other acclaimed restaurants, as well as bread and jam from specialty businesses in Champaign-Urbana.
"When restaurants shut down, it hurt artisan cheese sales," said Leslie Cooperband, Prairie Fruits co-owner, "and the way people buy cheese in grocery stores has changed ... This is our rally cry to be heard and for people to step up to the plate (and support artisanal cheese)."
The goal is to sell a select cheese from each of the three creameries, which process their livestock milk into cheese, and raise awareness of artisan cheese made and available in the state. In addition, 10% of the proceeds will go to the Frontera Farmer Foundation, a nonprofit that awards grants to small farms serving the Chicago area.
"As a small creamery, it's almost a necessity that we band together and help each other. We each offer unique cheeses. We all have something different," said Devin Hamilton, Ludwig Farmstead Creamery's sales manager. 
Each box includes Prairie Fruits' chevre frais plain and herbs de Provence goat milk cheese, Marcoot Creamery's sharp white cheddar and Ludwig Farmstead's Kickapoo, a raw milk cheese. The box includes a jar of Autumn Berry Inspired jam and a baguette from Central Illinois Bakehouse.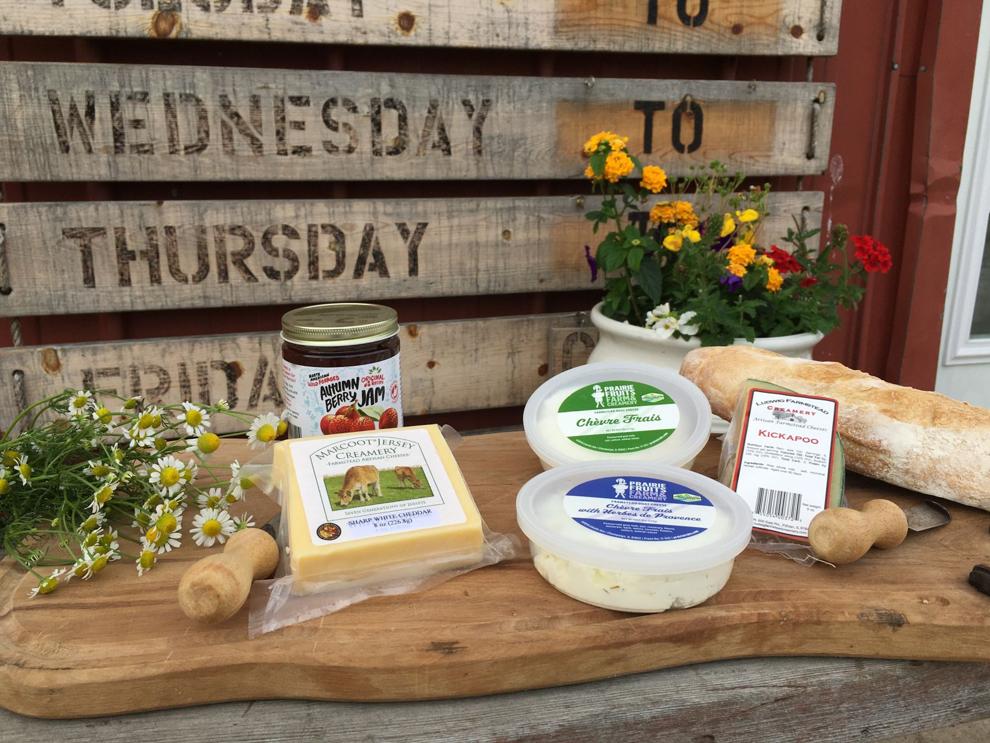 An all-Illinois victory box started when Cooperband threw out the idea to Bayless with whom her farm has worked for 14 years. He enthusiastically gave his support for the project. She spearheaded the effort and contacted Marcoot Creamery and Ludwig Farmstead.
Until the end of June, victory cheese boxes may be ordered online on Prairie Fruits' website. The Champaign creamery's staff assemble and ship the boxes or offer farm curbside pickup Saturday afternoons.
Amy Marcoot, the creamery's president, said Marcoot Jersey "is really big on collaboration ... This isn't about getting ahead. We try to work together."
Because of the unique characteristics of each creamery's animals and feed, their cheese would taste unique — even made with the same recipe, Marcoot noted.
Cooperband echoed Marcoot's sentiments of three creameries from three different counties joining forces to be stronger. "This all-Illinois (cheese) box is really cool. We're all farmstead creameries; we milk the animals for the cheese," she noted.
Marcoot expressed hope the customers who've been buying her farm's grass-fed beef and dairy products — as well as those who buy victory cheese boxes — will keep supporting local farmers. "These are the people behind the food, and the people you depended on for food," she said.