Wheat yields across Illinois in 2019 finished nowhere near the state record of 76 bushels per acre set in 2017.
But the crop that survived heavy rains and spring flooding also wasn't the disaster feared by many farmers last spring.
USDA's National Agricultural Statistics Service (NASS) released county yield results in December. Illinois wound up with a state wheat yield average of 67 bushels per acre for 2019, up 1 bushel from the previous year.
The final wheat yield also ended up slightly above the spring estimate of 64.59 bushels projected during the Illinois Wheat Association's (IWA) annual wheat tour in late May.
"All in all, for as wet as it was (last) year, we ended up with a decent crop. It was pretty average," said Danny Rubin, IWA president who farms in Fayette and Marion counties.
The heavy rains took a toll on wheat plantings as 100,000 acres were abandoned during the season. Illinois farmers planted 650,000 acres for 2019 and harvested 550,000 acres, down 2% from the previous year.
"We had a lot of water kill (last) year," said Ed Marburger, a Macoupin County wheat grower.
Fortunately, the excess moisture didn't cause widespread disease outbreaks in the wheat crop last year. Rubin believes more intense management of the crop helped contain that issue.
"I think more and more farmers are using fungicides," he said. "That's the biggest difference."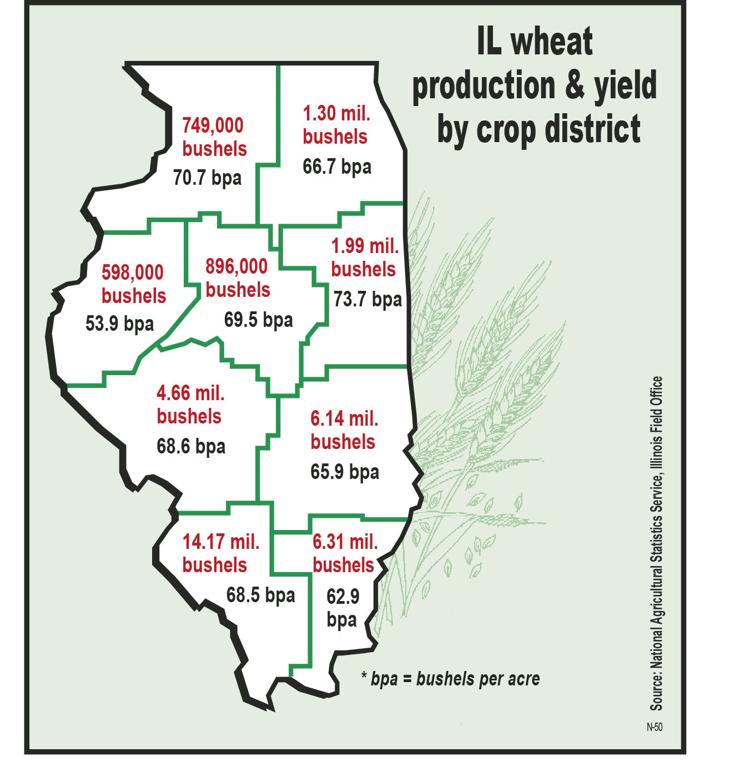 Illinois farmers produced 36.85 million bushels of wheat last year, down slightly from 2018, despite all the weather challenges.
Washington County held its spot as the top wheat-producing county in the state in 2019 with 3.68 million bushels. Eight other counties eclipsed the 1 million-bushel mark: Randolph (2.23 million); Clinton (1.92 million); St. Clair (1.36 million); Monroe (1.35 million); Madison (1.34 million); Jefferson (1.23 million); Franklin (1.08 million); and Clay (1.03 million).
The top five 2019 Illinois county yield averages occurred in Stephenson (86.2 bushels per acre), Ogle (81.8 bushels), Menard (81.7 bushels), Gallatin (81.6 bushels) and Pike (81.6 bushels) counties.
"Harvest went OK," Rubin said. "It kept raining in between, so it didn't go very fast."
Looking ahead, Illinois farmers experienced similar issues planting the 2020 crop as they did for 2019.
"This fall (2019) ended up like fall (2018), cold and wet. There wasn't much time (to plant wheat)," Rubin said. "In our case, we got most of the wheat planted we intended to, but it doesn't have much growth. I think the stands will be OK."
Meanwhile, stands of oats plummeted last year due in part to weather issues, crop abandonment and other crop choices.
Illinois farmers harvested just 10,000 acres of oats in 2019 compared to 25,000 in 2018. The average oat yield slipped by 18 bushels from the previous year to 65 bushels per acre last season.
Statewide, farmers subsequently produced just 650,000 bushels of oats in 2019, down 69% from the previous year.