Farmland values held their ground in most parts of the state last year despite tightening farm margins.
The Illinois farmland values and lease trends report, released Thursday by the Illinois Society of Professional Farm Managers and Rural Appraisers (ISPFMRA), pegged average statewide values at $10,500 per acre for excellent quality farmland, $8,600 for good ground, $6,700 for average quality land and $5,200 per acre for fair ground as of Dec. 31, 2019.
The estimate was unchanged for excellent land while the value of lesser quality land decreased 1% to 3% during 2019.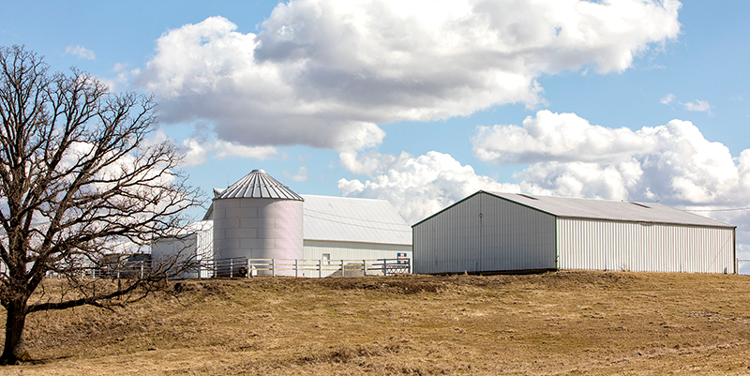 "Our survey data show the farmland price trends in the state continue to exhibit a stable pattern with little deviation from a year ago," said David Klein, vice president of First Mid Ag Services, who served as chairman of the 2020 Illinois farmland values survey.
Settling estates remains the top reason for farmland sales, with 58% of transactions driven by that trend (very similar to recent years) in 2019, while farmers remain the No. 1 buyer of farmland, making 59% of purchases recorded last year in the state, followed by investors, according to the ISPFMRA report.
"We've seen some small changes, but overall farmland values are pretty flat over much of the state," said Gary Schnitkey, University of Illinois professor and Soybean Industry Chair of Agricultural Strategy. "We saw it tick up a bit toward the end of the year."
Positive factors for farmland values last year included a tight supply, low interest rates and Market Facilitation Program payments that helped farmers through the challenges of weather-related crop production losses and lower commodity prices.
Crop production in Illinois last year totaled 1.85 billion bushels of corn, down 19% from 2018, and 532 million bushels of soybeans, down 20% from the previous year.
"2019 will be a year most farmers will never forget," Klein said. "Crop planting challenges across the state left the most unplanted acres since the spring of 1974. Most farm incomes were protected by crop insurance proceeds and USDA market facilitation payments."
Most ISPFMRA members (87%), surveyed prior to the coronavirus pandemic, believe farmland values will remain the same or decrease in the year ahead while 13% foresee an increase.
"We have two impacts going on right now (in response to the pandemic)," Schnitkey said. "Lower interest rates (reduced to just zero to .25%) should generally boost up land prices, but it's probably too early to say what 2020 returns could look like (after stock and commodity markets plummeted this month).
"Overall, with turmoil in the equity market, people are still looking for real assets," he noted. "Farmland likely will just hold in there."
Klein agreed low interest rates for a solid asset such as farmland will continue to attract investors.
"As we begin 2020, farmland values seem to be holding firm as farmland owners and investors continue to seek safety and security of this tightly held asset class with its unique investment characteristics in Illinois and other Midwestern states," Klein said. "Farmland remains a stable, safe investment in volatile times such as we've seen so recently."
Cash rental rates followed a similar pattern as farmland values across the state in 2019, according to the report.
"Cash rents are generally steady," Schnitkey said. "They declined in some areas, but not by much – a couple dollars."
Average cash rental rates ranged from $137 per acre for fair quality land up to $324 for excellent ground.
"Productivity obviously matters," Schnitkey said. "There is a great deal of variability in cash rents for a given land productivity."
The type of farmland leases continues to shift to cash rent or variable cash rent, with a total of 54% of leases in those categories across the state in 2020, compared to 38% in some form of crop share and 8% in custom farming.
Looking ahead, most ISPFMRA members surveyed prior to the coronavirus pandemic predict cash rental rates could stay the same or decline in 2021. The majority, 67%, look for cash rental rates to stay the same, 31% believe rents could decline and just 1% predict an increase in rents next year.