Combine and tractor sales climbed higher the first two months of the year, continuing a trend from 2021, despite rising inflation and global uncertainty.
U.S. tractor sales increased 9.2% and combine sales inched 3.1% higher in February compared to the same time last year.
"The U.S. farm economy outlook continues to be strong, so when farmers are looking at the future of their business, they continue to be optimistic," Curt Blades, senior vice president, industry sectors and product leadership for the Association of Equipment Manufacturers (AEM), told the RFD Radio Network. "When they're optimistic about the future, they tend to invest in capital equipment."
High commodity prices are a key driver of the optimism, although global events including inflation, tight farm input supplies and the Ukraine war added greater uncertainty in recent months.
Overall, prices of farm machinery increased 11.7% in the past year, according to AEM. However, sales of 100-plus horsepower (HP) tractors increased by a robust 27.9% in February compared to last year while sales growth of four-wheel drive tractors remained steady at 0.6%, despite the inflation.
"There's a lot of concerns about input prices and I think a lot of pressure on farmers' margins," Blades said. "But, strength in the commodities markets is continuing to drive a lot of the sales growth. And, with fuel prices seeming to be on their way up for the foreseeable future, it's possible even more farmers will want to get in on the efficiencies that new equipment has to offer."
New equipment on display at Commodity Classic included the following:
• The Fendt IDEAL 10 and 10T combines from AGCO deliver the highest horsepower of any combine in North America, with a maximum engine power of 790 HP and 20% more throughput capacity than previous models.
"It's really impressive. The capacity is unmatched," said Kevin Forth, senior marketing manager for AGCO. "At less than a gallon per acre, it's very good on fuel."
It also features IDEALdrive, the first joystick steering system on a combine from a major manufacturer to provide a better view of the header. The Fendt IDEAL 10, which made its debut at Classic after the in-person event was canceled last year, also pairs with AGCO's award-winning, 50-foot DynaFlex Draper Header with an automated docking system.
• John Deere featured its X9 combine at Classic. The X9, which debuted in 2019, features a wide feeder house, dual separator and the industry's largest cleaning shoe.
Geared up to improve efficiency and throughput, the X9 can harvest up to 7,200 bushels per hour in high-yielding corn while running up to 14 hours without refueling.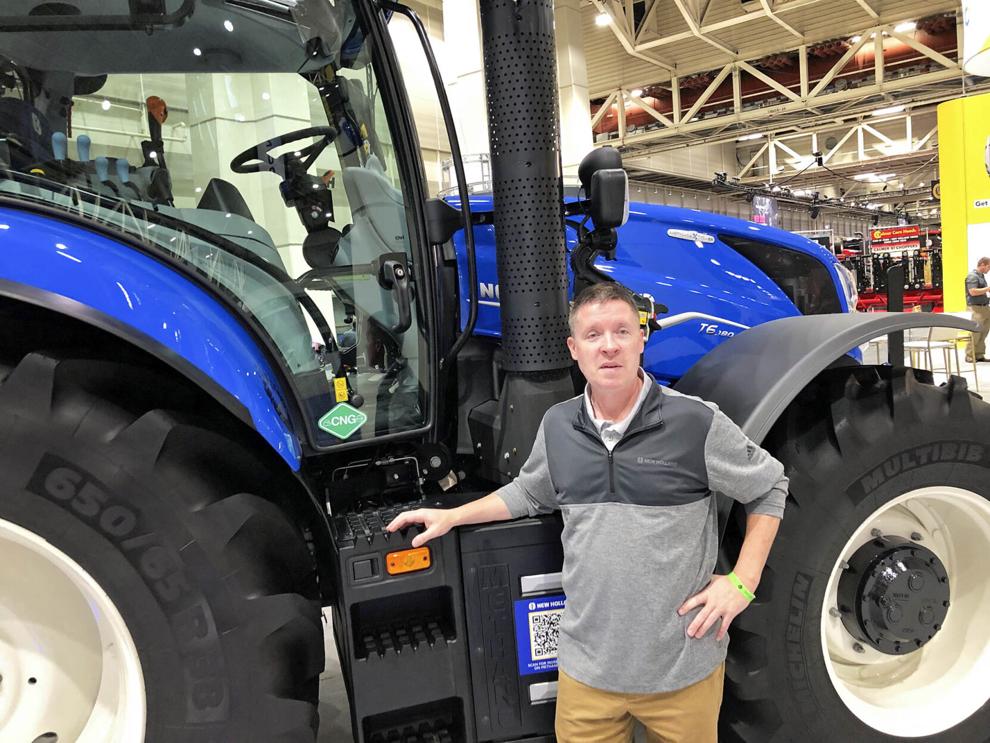 • Farmers looking to improve fuel efficiency have a new opportunity with a mid-range tractor from New Holland, the methane-burning T6.
The loader-ready, utility-type tractor is the world's first tractor powered entirely by methane. New Holland unveiled the first prototype in 2013.
"It was designed to deliver the exact same power and performance as a diesel," said Joe Boufford, New Holland product marketing manager for mid-range tractors. "You wouldn't know the difference, other than it's quieter."
The T6 reduces emissions of particulate matters by 98%, nitrous oxide by 17% and 10-15% less carbon dioxide, Boufford noted. Farmers can use animal waste or crops grown specifically for energy to generate biomethane, or refuel from the gas grid or specific biomethane stations. European farmers are already using the T6, which will have a limited release in the U.S. this year.
Looking ahead, Blades recognized supply chain challenges and labor issues will continue to challenge the ag equipment manufacturing sector. The industry will focus on each farming season to try to make sure parts are available.
"We're asking everyone to be a little more patient for delivery," Blades said. "We're finding farmers are planning ahead a lot more for capital purchases – one to three years in advance."