Illinois farmers planted 130,000 more acres of soft red winter wheat for the 2021 crop compared to the previous year.
And with an estimated yield of 80 bushels statewide, which would set a new record, some may wonder where all the additional wheat winds up in the supply chain.
In southeast Illinois, a good portion goes to Siemer Milling Co., headquartered in Teutopolis. Company president Rick Siemer recently discussed the industry and the rich history of the nearly 140-year-old family business.
"Today, the mill uses about 7 million bushels of Illinois soft red wheat every year," Siemer said. "It produces about 500 tons of flour per day with 200 tons of co-products (such as mill feed and bran). We sell the flour to companies that make non-yeast items like cookies, crackers, cakes and pretzels."
Siemer Milling, which operates an elevator in nearby Montrose and built flour mills in Hopkinsville, Ky. in 1995 and West Harrison, Ind. in 2015, sources nearly all the wheat – totaling roughly 25 million bushels — locally at each facility.
And, with a broader range of growing areas, Siemer Milling helped connect its grower network to the advantages and opportunities of intensive cultivation.
"We have a number of very good producers, people who studied and put a lot of effort into growing wheat," Siemer said. "And I think we helped support farmers improving the quality of wheat grown here. With advances in breeding and agronomics, we certainly see 70- to 75-bushel yields (averages) in Illinois."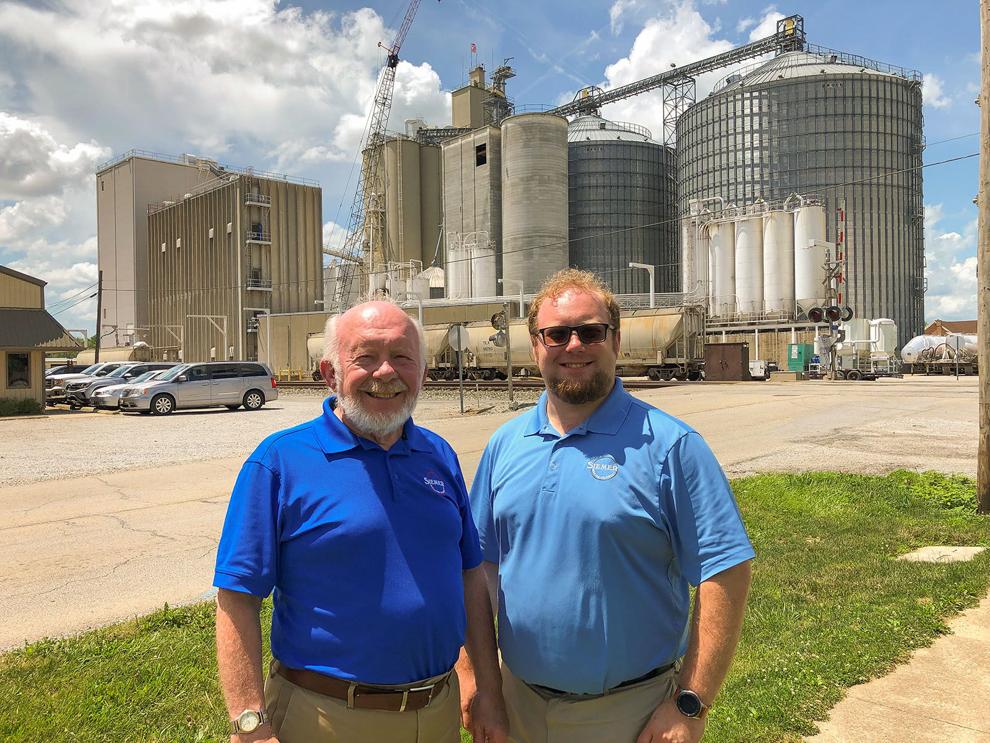 Those averages could continue to climb as many wheat growers currently reach and exceed 100 bushels per acre, often followed by double crop soybeans that yield 40 to 50-plus bushels per acre and form the perfect one-two punch on many farms.
"I'm very optimistic," about the current crop with harvest nearly complete, Siemer said. "It's as good of crop as we've ever seen."
Siemer Milling became part of the landscape in Teutopolis in the late 1800s when successful entrepreneur Clemens Uptmor formed a partnership with his son and son in law, Joseph Siemer, as part of a plan to vertically integrate. The original mill was named Hope Mills, Uptmor & Siemer Proprietors.
"I like to be able to say the business started Nov. 6, 1882. That was the first entry in the account books," said Siemer, currently the fifth generation running the business.
"Every community back then had a flour mill," he noted. "In the early years, Siemer Milling was on the railroad and steam powered and using the modern technology of roller mills as opposed to the old stone mills. We actually exported flour to the east coast and for shipment to Europe and South Africa. That's something we no longer do."
Joseph Siemer and his son, Clemens J. then bought the mill in 1906 and gave it the current namesake.
"We just kept grinding away the ensuing decades," Siemer said. "I'm a steward carrying a multi-generational commitment forward."
The current mill in Teutopolis was built in 1979 and the original facility was eventually demolished in the 1990s.
But, the legacy certainly lives on and Siemer hopes to see that continue with a sixth generation currently working at the family business, which set up an employee stock ownership plan years ago to benefit its valuable workforce.